When I left Delhi to do the work of Mission Tirhutipur, I had nothing in the name of financial savings. Those who 'know' me knew this fact, but most people, both in Delhi and in the village, felt that I am coming to execute an NGO project funded by some individual or institutional donor. From a logical point of view, it was natural for people to think so. No 'sane' person would take such a big step without arranging money. But in reality, I had taken such an 'insane' step. Far from getting the donation, I did not get even any assurance of it. In fact, there was no effort on my part in this direction.
Mission Tirhutipur is not my personal work. Instead, it is a work of the society, for the society and therefore, in due course it has to be done by the Society. However, for one year i.e. till October 2021, I had decided to do it as my personal work. In this period I was determined not to seek any financial assistance for Mission Tirhutipur – neither from any person nor from any organization. It was my resolve that I would not ask for any such help even from my family and friends. I wanted to go to the society for cooperation, only when the foundations of Mission Tirhutipur were well laid.
My financial plan for one year could be described in two sentences, "I will see" and "He will see". I took the inspiration of the first one from a daily wage laborer. The second one was inspired by a devotee who has faith in God. When a daily wage laborer needs money, he goes to the 'Labor Market'. He works for a few hours or a day or two for someone and comes home with the money without any future obligation. In the same way, I had decided that when needed, I would go to the 'Pen Market' and earn my money by doing some work related to writing, editing, and translation, etc. that too without going away from the village and without falling into any bondage. I had this mode ready to meet my personal expenses but when it comes to the expenses of Mission Tirhutipur, I relied on the "He will see" formula. I believed that whenever the need arises, God will make some arrangements.
So did happen. On the day of Dussehra, one of my old well-wishers secretly gave me an envelope and said that it is for Mission Tirhutipur. I was not very keen to take it but somehow agreed. After he left, I saw that the envelope contained one lakh rupees. Now the challenge was what to do with this money? After long deliberation, I started making a list of items that could be bought for Mission Tirhutipur. Once this list was ready, I left for Delhi on 7th November to buy them. My purchase list contained mostly 'building material'. Yes, building material – but not brick, sand, and cement. It was something else.
In November, I was living in my ancestral house in Sunderpur Kaithauli village that is 1.5 km away from Tirhutipur. Despite being a constituent of the same Gram Sabha, both villages are altogether different. I wanted a house to be built at Tirhutipur on the same 1.5 acres of land which I had asked from my family for Govindji. Since there were not enough resources to build the house for Govindacharya Ji, I wanted to make some arrangements only for myself for the time being. I was keen to shift to Tirhutipur as soon as possible because that was most likely to accelerate the mission work.
It should not be deduced that the idea of ​​building a house in one lakh came to my mind as soon as I got one lakh rupees. In fact, between April and September 2020, I spent hundreds of hours doing research and study on the topic of Low-Cost Housing. One of the nine dimensions of Mission Tirutipur is infrastructure. For us, infrastructure does not mean bridges, flyovers, and public buildings. For us, infrastructure is limited to structures for private uses viz. Houses, shades, etc.
The materials, techniques, and designs used to build houses in villages today are very expensive and disappointing in terms of utility. Most of the new homes can be considered both the result and the cause of the disintegrating socio-cultural fabric of the villages. That is why we had decided that under Mission Tirhutipur, we would make a serious effort to change or improve the present system of building construction. We planned to develop the campus of Mission Tirhutipur in such a way that it becomes a live example of alternative methods of designing and building.
In search of alternatives, I studied several low-cost construction techniques prevalent in India and other parts of the world. I also understood how building construction evolved after the Industrial Revolution. In this context, the book 'At Home: A Short History of Private Life' written by Bill Bryson was very useful. I also tried to understand the new trend that is going on in the name of Off-grid House or Minimalist Home. Reducing the cost of building construction was not my only objective. I also wanted to learn how to improve the features related to the insulation and sanitation of rural houses. While doing my crash course in civil engineering via 'YouTube university' I realized that my knowledge of Indian Vastu Vidya is not good enough. To remove this lacuna, I read the book 'Vastu Vidya Ke Safal Prayog' written by Gani Rajendra Vijay. This book was quite revealing and informative. It added new dimensions to my building plans.
In the course of my studies, I learned many things related to civil construction that may be applied in the rural environment. In this regard, the know-how of the Geodesic Dome is particularly noteworthy. I consider it as a game-changer in improving the rural infrastructure for private uses. The design of the Geodesic Dome is like a round dome. It is constructed by joining the struts of different sizes in the form of a triangle. This method was discovered in Germany around 1926. It was developed further by Mr. RB Fuller of the USA. Nowadays Geodesic domes have almost been declared impractical. But I think that the reasons given against this design are not very relevant especially in the rural setting.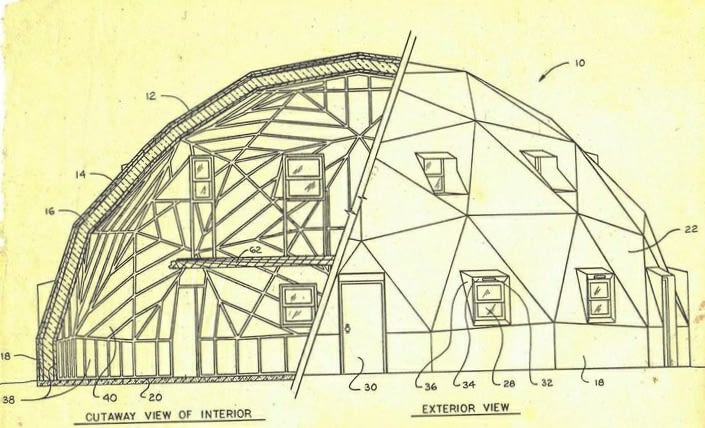 Most of the materials needed for building the Geodesic Dome are readily available in the village. There are only a few things that one needs to arrange from the outside market. When I reached Delhi on 8th November my exploration for such items began. While staying in Delhi, one day I met my old colleague Kamal Nayan. He was keen to work for Mission Tirhutipur. I told him that it is not a funded project. Therefore, any remuneration was not possible. This information, however, was not enough to dissuade Kamal Nayan. He offered his one year for Mission Tirhutipur without putting any conditions. This development was no less than a boon for me. In the language of astrology, I got rid of Kemdrum Dosha. First getting one lakh rupees and now the offer of unconditional service for one year… I got convinced that Mission Tirhutipur has all the blessings of God.
How Mission Tirhutipur progressed with Geodesic Dome and Kamal Nayan? This will be explained in the next Diary. Goodbye.
Vimal Kumar Singh
Convener, Mission Tirhutipur