The shopping we did in Delhi included a sack of polyester granules, bundles of fiberglass mess and bubble wrap, lots of toys for kids, and many more things. We somehow packed everything in the Centro car and got ready for the return journey. I had a fast of Ekadashi on November 25, so I had to stay in Delhi for that day. The next day after breaking the fast, Kamal Nayan and I left for the village. But before reaching the village, we had to stay in Kanpur for a few days to see and learn many things. We also had to buy some equipment after due consultation with experts.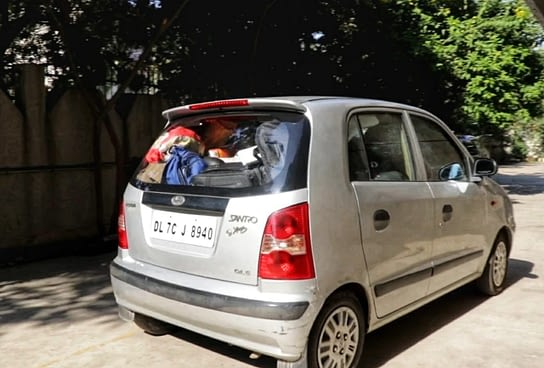 Our first destination in Kanpur was a Farm. My friend and a close associate of Mission Tirhutipur, Shri Suresh Agnihotri Ji had organized our visit to the Farm. He had told me that the farm, spread over 20 acres right on the banks of Ganga Ji is no less than a spiritual place. It has no human habitation in its vicinity of 2 kilometers. The nearest town is Bithoor that is 7 km away.
We were moving ahead with the desire to learn something new on the Farm. But we did not know that our first lesson is scheduled in the journey itself. Very often nature teaches us something very deep without making a fuss of it. If we are conscious enough, then the message becomes clear, and we benefit from it throughout our lives.
We were coming to the farm for the first time, so Suresh Ji had explained to me the route of the farm in great detail. He had insisted that we should get there before sunset as it may prove difficult to find the farm at night. But I didn't pay much attention to his words. I trusted Google more than him. Since I had the GPS coordinates of the farm, I felt that there was no need to take the directions and instructions of Suresh Ji very seriously.
We were supposed to reach the farm by sunset, but it did not happen. When we got down from the Agra Lucknow Expressway and reached National Highway 19 leading to Kanpur, it was past 5 pm. By that time Sun God had slipped in the horizon and darkness was spreading all around. But we were not worried. Our car was moving smoothly as per the instructions given by Google. There was no need to stop and enquire about the route.
Suddenly Google asked us to turn to a deserted road. For a moment my mind became apprehensive. I thought to reconfirm the route with some local person. However, I decided not to do so because Google was reassuring me about the destination and its route. It was telling us that the farm is just 3 km away. After some hesitation, I followed the instructions of Google and drove the car on that desolate road.
We must have moved hardly one kilometer now that the paved road turned into an earthen road. Once again a thought arose in my mind that I should ask someone, but still, my trust in Google was strong enough and I kept on driving as per its instructions. But as the distance to the farm was decreasing, the road was getting worse and worse. When I was just 500 meters away from the farm, my car stopped. There was no way to move ahead as the approaching road had a deep rut filled with water and mud. The road was so horrible that even the Tractors would find it challenging to move on it.
It was about 10 o'clock in the night. There was not a single person around, from whom to ask anything. Realizing the seriousness of the situation, I told Kamal Nayan to walk up to the farm with the help of Google and ask Suresh Ji to come near the car. Luckily that day Suresh Ji was staying on the farm to receive us. When Kamal left to seek the assistance of Suresh Ji, only then I saw two men coming towards me. On that day the moonlight was so bright that even in the night I could see the spear and Axe in the hands of those persons. For a moment I was scared but soon came to learn that they were farmers and carrying weapons to protect themselves from wild boars. Seeing the car in the middle of the field in the night, they got curious and came to see that what is going on.
While I was talking to the farmers, I saw that Sureshji is coming. He was waving the torch in the air and calling me loudly. As soon as he came near me, he asked me to turn the car back. I followed him silently without asking any questions. This time Google's mouth was shut. With extreme care and attention, I drove my Centro car back to the proper road. Finally, around 10:30 pm, we reached the farm. It was obvious that our undue reliance on Google had caused all this trouble. I realized that in a rural environment, it will be unwise to rely too much on technology. Instead, it will be good if we use technology in harmony with local wisdom.
The next day when I woke up, the dreadful experience of yesterday was very much alive in my mind. However, it gradually withered away as I poured myself into the charming environment of the farm. Very soon I was in a live discussion with the Farm people. Suresh Ji was helping me to establish a bond with everyone present at the Farm. Our talk started with agriculture, but within few minutes we switched to the topics related to engineering. We discussed a lot about many useful tools. Everyone suggested to me that I should avoid buying new equipment for now. The Farm in-charge was kind enough to offer me hands-on experience on any equipment.
On 27th and 28th November, I kept on learning about the different types of equipment being used on the farm. In between, I also took some lessons regarding chemical-free natural farming. I also had a detailed discussion with the Farm in-charge on the topic of the Geodesic Dome. Being an engineer himself, he understood my points very well. In course of our conversations, we found that there are many grey areas where we need to do some actual ground experiments before coming to any conclusions. I was keen to do such experiments on the premises of Farm itself, but this could not happen as everyone was busy with some pre-scheduled assignments. The farm in-charge asked me to come again for this purpose sometime in December.
On the morning of 29th November, I enjoyed one more lively interaction with the Farm people. Around 10 am we took leave from everyone and headed straight to the village Tirhutipur.
That's all in this diary. Please join me in next diary to know how the experience of Kanpur Farm helped us in Tirhutipur. Goodbye.
Vimal Kumar Singh
Convener, Mission Tirhutipur