The activities of Mission Tirhutipur have a total of 9 dimensions – Media, Events, Infrastructure, Organization, Education, Agriculture, Non-Agriculture Production, Trade and Service Sector. If anybody asks me what is the most important thing out of all these 9 sectors, I would say that it is Education. However, Education itself is a very broad term. Therefore, if someone asks further- what specifically in education, then my answer will be Pre Primary Education or Early Childhood Education i.e. education of a child till 5 years.
Despite considering early childhood education so important, we could not do anything immediately in this regard. Neither we nor the society and parents of the children were ready for this course. Our problem was related to infrastructure and resources but the problem of the society and parents was their mindset. There are very few in the society who acknowledge the importance of early childhood education. Before we could venture into this sector, we needed to change the mindset of the people including parents and that was a long-term process.
If something was to be done immediately in the field of education, then the children between the ages of ten and fifteen were most suitable in the given circumstances. However, this age group had its own problems. In January 2020, the intensity of the first wave of corona across the country was rapidly decreasing, but schools were still closed. Since the children had not gone to school for a long time, they almost forgot about the copies and textbooks. They were spending their time in a series of unproductive activities. To address the immediate requirements of the children, we opened our first Study Centre on 3rd January 2021.
At first, we just wanted to make sure that the children start assembling at one location with their school bags. This was easily done with the help of village aunties, but it was a big challenge to keep the children busy with discipline for two hours every day. The parents of the children were insisting on using the age-old methods of corporal punishments and oral chastisement. But it was our unanimous decision that whatever may be the consequences, we will not enforce discipline by any such means. Village aunties were allowed to sit around the study center with sticks in their hands, but a guarantee was taken from them that they would not use it.
After about a week's effort, we made some orders at the first study center. The roles of Kamal and Harsh were important in this regard. Once the situation was brought under control, the responsibility of running the center was handed over to some senior children. They were given proper counseling before giving this responsibility. The aunts were also alert to make sure that everything was OK.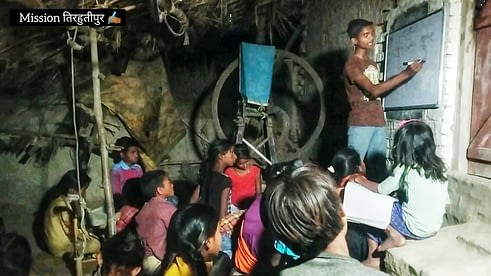 The first study center was running between 6 pm to 8 pm. Initially, the students were mostly girls. But gradually the boys also started coming. Within a few days, the number of children increased to around 70. It was a big problem to accommodate so many children in a very small space, but it was somehow manageable due to the winter season.
When the number at the first center became uncontrollable, we opened our second center on 28th January. This center was started outside the village in the verandah of a house whose owners lived in Delhi. Operating between 6 to 8 pm, this center was running with 50 to 60 children.
We were amused to see that the idea of the Study Centre was gaining popularity among the children. On February 15, some children took the initiative to open the third center. On the common land of the village, they erected a small hut to house the 3rd study center. In this center, 20 to 25 children used to come. Its timing was also between 6 pm to 8 pm. Unfortunately, the hut of the 3rd center blew away in a storm after 23 days. Thereafter, we managed to shift the children to another location with the help of a family.
Till now we were running a total of 3 centers accommodating children from 5 years to 18-19 years. After some time we realized that older students are not able to focus on their studies because of the noise created by small children. Therefore, we pulled small children of around 5 years from all the 3 centers and constituted the 4th center especially for them. Their assembly point was Mission Ground just out of the village. Since all students of the fourth center were small in age, the concept of peer learning was not applicable here. In this background, we appointed an honorary teacher to teach them. This teacher was none other than my wife Abhaji. She happily accepted this responsibility. For some time her sister-in-law also assisted in this endeavor. This center was operating in two shifts, in the morning and evening with around 60-70 students.
Our experiment at the study centers lasted for four months. When the second wave of Corona came, we had to close all our centers on 22nd April. At that time we did not know when we would be able to start our experiment again. It was not only about Corona. There were many other problems as well. The biggest problem was the weather. The summer was approaching and winter was in the queue. What we did in winter regarding the sitting arrangements of the children, that was not possible in the summer and rainy seasons.
We were worried about the future, but there was also a sense of satisfaction about what we did in the past. It was not an ordinary achievement to take care of about 200 children of the village for four months without any regular teacher. Our centers were running on the principle of 'peer learning'. Thus the children were teaching each other. But a lot of hard work went into crafting this system. Kamal's role in this regard was very important. He was not there to teach, but it was his daily routine to visit all the centers every day and monitor them properly. It was his responsibility to provide all the necessary items including blackboard, dusters, etc., and make all arrangements to keep the center running. He used to make many rules to maintain discipline in the centers. After Harsha left for Delhi on January 18, he had to do all this alone.
If we talk about our achievements, it is worth mentioning that in four months, we succeeded in changing the attitude of children towards studies. Children came to know for the first time that studies can be done without sticks and without scolding. In absolute terms, there was more noise and less serious studies at these study centers of the mission. But still, it created a positive atmosphere regarding education in the village.
Mission Tirhutipur has not yet taken any big step in the field of education. But we know our destination very well. Opening traditional schools is not on our agenda. We also have no intention to compete with the ongoing school system. We just want a complementary system that works in every village of the country. In other words, we want to cover the territory that has been left vacant by the schools and the colleges. That's all in this diary. Goodbye.
Vimal Kumar Singh
Convener, Mission Tirhutipur