On the eve of Vijay Dashmi, I wish to take you 14 years back in time. It was the year 2007 when I visited Kishkindha along with Shri K.N. Govindacharya Ji. We went there at the invitation of Basavaraj Patil Ji, Sedam. He had planned a brainstorming session on the holy banks of Pampa Sarovar with a view to decide the future course of Action. Kishkindha is a vast region located in the Koppal district of Karnataka. It's very unfortunate that very few people know about this place which has so much prominence in Ramayan.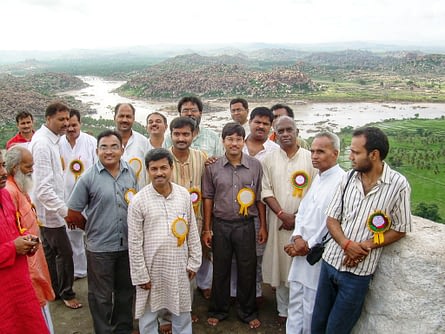 In the story of Lord Rama, Ayodhya is the beginning and Lanka is the result but Kishkindha is the process. It combines both the beginning and the result. Often we all get worried about the result as soon as we start any work. We are not so conscious about the process. In this context, the story of Lord Ram offers a valuable lesson. It is interesting to see that Tulsidas ji has taken only three places to name his chapters. They are Ayodhya, Kishkindha and Lanka. As Rama and Ramayana are incomplete without Lanka and Ayodhya, similarly the picture of Rama and Ramayana is not complete without Kishkindha.
During my Kishkindha visit, all these lessons settled very deep in my subconscious mind. Ten years later, when there was a talk to create a formal institution to work on the ideals of Govindacharya Ji, I suggested naming it on the legend of Kishkindha. Everyone including Govind Ji and Basavraj Patil Ji, Sedam accepted my suggestion, and thus "Sanatan Kishkindha Mission" was formed in 2017.
I am glad that in the 14th year of my Kishkindha visit, Govindji has formally handed over the responsibility of Mission Tirhutipur to "Sanatan Kishkindha Mission". On the eve of Vijay Dashmi, there could not have been a better gift for me. Here, I would like to clarify that this change is not going to curtail my responsibilities towards Mission Tirhutipur. This decision of Govind Ji has not changed my position but it certainly affects your position vis a vis Mission Tirhutipur. Now you can not remain just a reader of my Diary. You will have to play your due role.
In an ideal situation, social work must be carried out with the active cooperation of society itself. Very often social work starts with the active support of one or a few persons, but it is not desirable to keep it confined in personal domain. Social work must be taken into the public domain as soon as possible. Otherwise it can not become an instrument of desirable social change.
If we read the Ramayana carefully, we find that the struggle of Lord Rama is divided into three phases. At first, he struggles alone in the forest with his brother and wife. In the second phase, he takes the support from the people of Kishkindha. When cooperation between Ram and the people of Kishkindha reached its peak in the battlefields of Lanka, the third phase of his struggle unfolded. At this phase, he gets the support of Indra, and that too without asking.
Taking lessons from the life of Lord Rama, I have divided Mission Tirhutipur into three phases. The first phase continued for one year and ended today on the eve of Dussehra. In this phase, I mostly relied on my personal strength and avoided taking active support from society.
If Vijay Dashmi signifies the end of the first phase of Mission Tirhutipur, it also heralds the beginning of the second phase. Now onwards, I will try my best to take active cooperation from each and every individual like you.
If the second phase goes well and people are in harmony with our goals and ideas, our third phase will begin. This will be the most visible phase of Mission Tirhutipur. In this phase, there should be no surprise if Indra (government and corporate sector) comes forward to offer their support.
Old in Gold:
Economic policy of the 'Sanatan Kishkindha Mission' is based on the golden rules of Ancient India. From the teachings of Ravindra Sharma Ji we learned that in the traditional Indian society, transfer of wealth took place in many forms such as 'Daan', 'Dakshina', 'Bhiksha', 'Tegam', 'Maan', 'Maryada', 'Nom', ' Neochchawar', 'Shagun', etc. All these words have deep meanings. There are specific procedures and regulations attached to them.
'Daan' may be translated as donation in English. But we should remember that it is a much wider term. According to Ravindra Sharma Ji, the purpose of the various methods of 'Daan' was to create a 'give up' mindset in the people. These methods of 'keep on giving' played a very important role in enriching the individual and the social values. This habit of giving was not limited to the wealthy alone. In India, every class including farmers, laborers, etc has their own occasions when they used to give 'Daan'.
Our sages had developed an elaborate process for 'Daan' which is still followed by the traditional society of India. Selfishness or ego should not arise in the mind of the donor. For this, he has to make himself pure by fasting, etc. At the same time, there should be no inferiority complex in the mind of the person who receives the Daan, so he is asked to bless the giver from a superior social position. In Indian tradition, there is no practice of saying thanks after receiving the Daan. While there are some rules for the givers of Daan, there are also clear instructions for those who receive Daan. He has to adopt a simple lifestyle and work whole-heartedly in the public interest.
Based on this tradition, Sanatan Kishkindha Mission has developed a process of accepting Daan from the people. Irrespective of his/her economic condition, any person can become the honorable Yajmaan in the holy Yagna initiated by Sanatan Kishkinda Mission. To be honest, we want to challenge the idea that the responsibility of providing funds for social work lies exclusively with the big companies, capitalists, and the government.
Special Procedure:
On this auspicious day of Vijay Dashmi falling in the Yugabd 5123 we have initiated our special procedure to accept Daan that spans into 3 days:
(1). Dashmi: Taking a Sankalp (resolution) of giving Daan in favor of "Sanatan Kishkindha Mission".
(2). Ekadashi: Observing Ekadashi Vrat as per one's physical abilities. If one finds it difficult he/she may do it only by offering obeisances to Shri Hari Vishnu or any other divine entity in which one has faith.
(3) Dwadashi: Completing Vrat and then executing Daan as resolved on the day of Dashmi.
Once again, I would like to reiterate that there is no insistence on any specific quantum of Daan. Whatever may be the amount, we will accept it with great respect provided one has followed the process as requested above.
To know other details in this regard, please send a WhatsApp message "Yes" to my mobile number- 9582729571. If you have any suggestions or questions about our process, please send that too. If you want to send your feedback by email then please use my personal email- vimal.mymail@gmail.com.
That's all in this diary. The next diary will now come on the Dashmi of Krishna Paksha in Kartik i.e. on 1st November 2021. Goodbye until then.
Vimal Kumar Singh
Convener, Mission Tirhutipur